Lab Furnitures
BRIEF SUMMARY ON LAB FURNITURES OF COMPANY:
Started in the year 2005, MGS Lab Furnisher is a registered Pvt. Ltd Company engaged in designing and fabrication of laboratory furniture items. The company has expertise in manufacturing all types of laboratory furniture items that comprises of Fume Chamber, Fume Exhaust, Exhaust Hood, Lab Centre Table, Chemistry Table, Lab Work Bench, Chemical Storage Cabinet (VDC), Chemical Cabinet, Storage Rack, Workbench, Lab Table, and Lab Equipments.Over the years, through our immense experience and qualified professionals associated with us, we have accomplished several projects successfully. We possess a team of skilled senior technicians, site supervisors, client support executives, quality control experts, production supervisor and other workers designated as wielders, fabricators & fitters, electricians, etc. In a short span, we have carried out enormous challenging orders with utmost satisfaction. We take pride in listing our major clients for whom we have executed considerable projects excelling in the business of lab furniture:
OUR MISSION
Provide products & services to the highest Safety & Quality.

Keeping ahead the state-of-art technology to meet out the needs of laboratory.

Excellent cooperation with clients as partners.

Provide good environment to all.
OUR MAIN OBJECTIVE
SAFETY

SCIENTIFIC

HI-TECH LABORATORY

STYLE

TECHNICALLY MODIFIED.


LABORATORY CUPBOARD
We Bring forth comprehensive range of Laboratory Cupboards for our prestigious clients. Manufactured using advanced machinery; these Laboratory Cupboards have a beautiful and sophisticated appearance.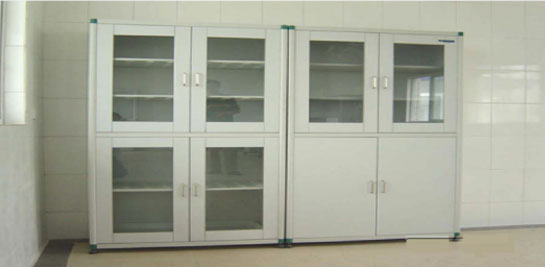 We provide two types of cupboard cabinet:-
Chemical storage cupboard

Wall storage cupboard
FUME HOOD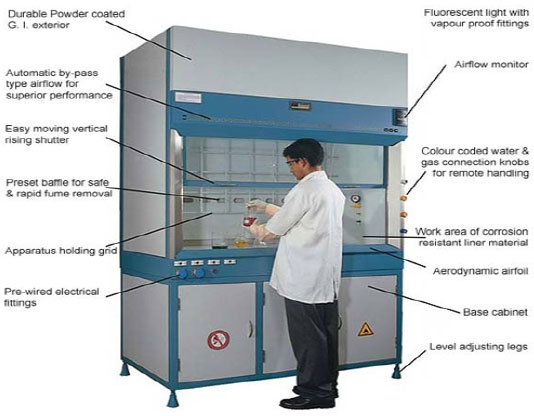 A Fume Hood or Fume Cupboard is a type of local ventilation device that is designed to limit exposure to hazardous or toxic fumes, vapors or dusts. A fume hood is typically a large piece of equipment enclosing five sides of a work area, the bottom of which is most commonly located at a standing work height. Two main types exist, ducted and re-circulating. The principle is the same for both types: air is drawn in from the front (open) side of the cabinet, and either expelled outside the building or made safe through filtration and fed back into the room.
All fume hoods are designed to address one or more of three primary goals:
To protect the user (fume hoods, biosafety cabinets, glove boxes);
To protect the product or experiment (biosafety cabinets, glove boxes);
To protect the environment (re circulating fume hoods, certain bio safety
cabinets, and any other type when fitted with appropriate filters in the
exhaust airstream).


Fume hoods typically protect only the user, and are most commonly used in laboratories where hazardous or noxious chemicals are released during testing, research, development or teaching. They are also used in industrial applications or other activities where hazardous or noxious vapors, gases or dusts are generated or released.Because one side (the front) of a fume hood is open to the room occupied by the user, and the air within the fume hood is potentially contaminated, the proper flow of air from the room into the hood is critical to its function. Much of fume hood design and operation is focused on maximizing the proper containment of the air and fumes within the fume hood.
Steel structure fume hood:
Standard size: Width 1200mm,1500mm &1800mm
Cabinet: Use high quality cold-rolled steel sheet surface is packetized by acid
and electrosprayed by Epoxy resin.
Table top : Use 12.7mm thick Anticorrosion Black C-SPC; Inside lining
Air deflector : Use 5mm compact chemistry basal plate
Windows: Explosion proof tempered glass can hover at any height.
Hinges: Open type high quality hinge.
Handle: Stainless steel bright type handle.
Light source: Explosion proof fluorescent light.
Electric power source: Multi-function sockets.
Sink: PP material special used for lab.
Cock: single outlet cock special for lab.
We have other material lab fume hoods. Our materials have wood, steel, steelwood and aluminum-wood we can design different size, color, and outlook according to your different use. Also our designer can design the frame photos for you according to your specification. We would like to try our best to design the most suited and the most reasonable products for you.
ISLAND WORK TABLES / CENTRAL BENCH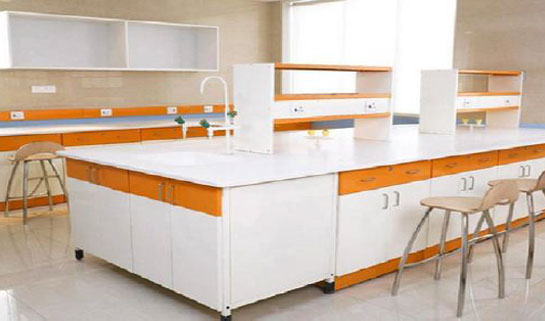 Island Worktable or Central Bench is used for performing various tests by scientist/chemists. Island Worktable or Workbench can be available in various knee gap or continuous modular type. The material of construction will be Galvanized Iron (GI) Sheet (duly Epoxy powder coated) of suitable thickness. Being a customer oriented company, we provide provision for a sink unit (PP), reagent shelves/racks, gas and water valves and suitable electrical arrangements along with services as per customerís requirements. The modules are fabricated in such a way that they can be fitted either to the pedestal system based on the comfort level and according to clientís requirement. The modules have two parts, one the top drawer and bottom with dual door with handles. The drawers are fitted with telescopic channels for free rolling which would confine an ideal solution for the storage of regular use of materials and chemicals.
Specifications:-
ANTI VIBRATION TABLE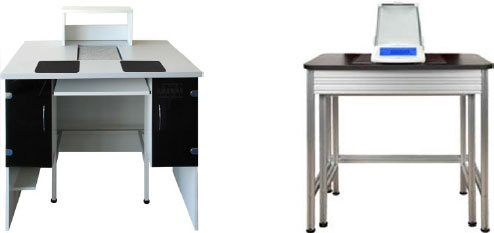 We design and fabricate a wide range of Anti Vibration Table (AVT), which are manufactured using quality material. Anti-Vibration Table finds usage in critical areas where reading accuracy of instruments like Balances, Galvanometers, Electronic Microscopes and Atomic Absorption Spectrophotometers, is affected by Vibrations. These tables are designed to provide accurate readings from various Sensitive Electronic Balances/ Instruments, as they support no vibration. We use pre-fabricated inner side in these tables and these are heavy weighed. The floor contact surfaces of the side rod of the table are fitted with special Anti-Vibration Rubber Pads. We use Melamine or Sun Mica or Polished Granite Tiles to laminate the working surface of the table, which is fully separated from the Inner Table. The outer table is positioned independently of the inner table.
Specification:
The inner table is a heavily weighted pre-fabricated System which is mounted on specially rubber mounts to dampen the minutest vibration. A small drawer is provided for the convenience of the user for storing weights, accessories etc. We offer two types of Anti-vibration tables-900mm height and 750mm height.
WARD LOCKER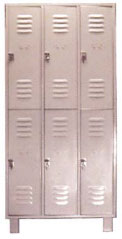 Hospital Ward Locker available with us is designed specifically for keeping all the medicines and other things required by the patient. It is portable and has ample space for keeping all the things safely.
INSTRUMENT TABLE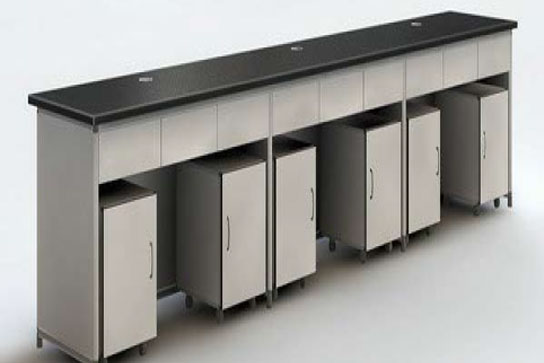 Specification:-These consist of 2 modular with top drawer and bottom cupboard on one side and 4 continuous drawers on the other. Telescopic channels for smooth and noise free movement of drawers and a 15/5 Amps 3pin electrical socket are standard fittings.
These consist of 2 modular with top drawer and bottom cupboard on one side and 4 continuous drawers on the other. Telescopic channels for smooth and noise free movement of drawers and a 15/5 Amps 3pin electrical socket are standard fittings.
LABORATORY TROLLEY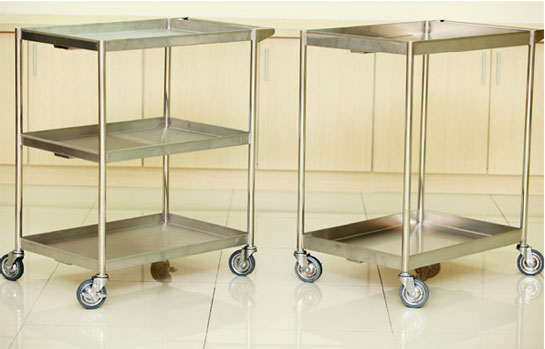 We are specialized in providing Laboratory Trolley to our esteemed clients. These Laboratory Trolleys are highly durable and maintain high qualitystandards. We conduct strict quality checks under the company parameters, which help us in securing high quality standards
Used In
Laboratories or hospitals to carry medicines, chemicals and other such ite
LAMINAR AIR FLOW
The Laminar Air Flow is manufactured from high grade stainless steel without any gaps or joints. Owing to its high quality, the demand for our Laminar Air Flow has increased tremendously over the past few years.
Main Attributes:-
Well cleaned

Sturdy construction

Highly effective
REVOLVING STOOL :
We provide well designed Revolving Stool for our valuable clients. These Revolving Stools are manufactured from high grade material which helps in assuring its high quality. These are increasingly used in various laboratories and our clients have always given a positive feedback for our Revolving Stool.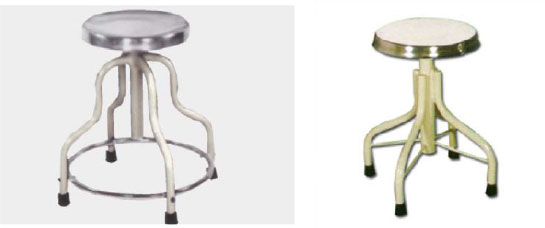 Special features:-
Light weight
Comfortable
Easy to revolve
Well constructed
DARK ROOM TABLE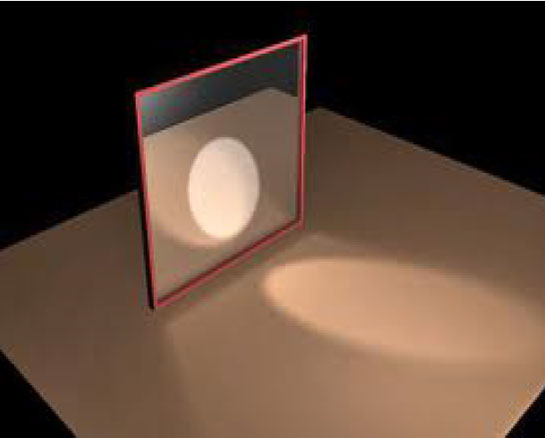 Our Company Innovative darkroom table.
COMPACT : Approx. 1.5ft (D) x 2ft (W).

CONVENIENT : Manage to load all items in one

MATERIAL : Made of Aluminium
LABORATORY SINK UNIT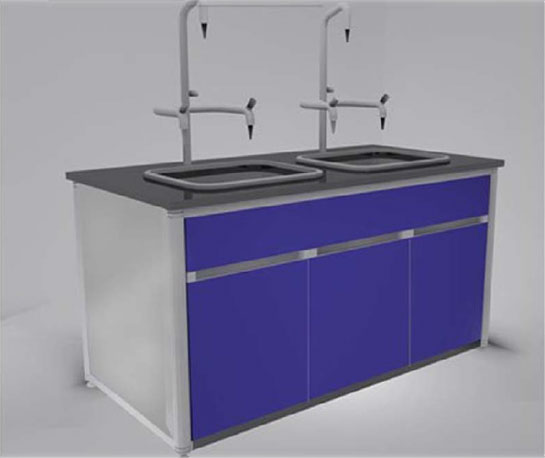 Ideal for laboratory usage, our range of Sink Unit is manufactured using high grade propylene (PP) and stainless steel. Being fabricated from highly non-corrosive material, these sink units are best to be used in various chemical laboratories. Designed as per the industry standards, these sink units ensure durability and elongated usage for long period of time.
RACK AND CHAMBERS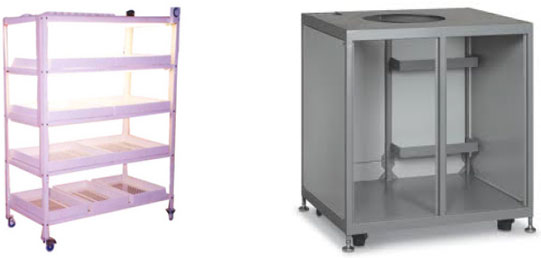 We are offering rack and chamber. These products are manufactured using quality stainless steel, aluminum, galvanized iron, and wood. Owing to highfunctional characteristics such as rigid structure, resistant against corrosion, chemicals & acids, our products are widely used in medical institutes, government & private labs, colleges and chemical industry.