Ammonia Cracking Units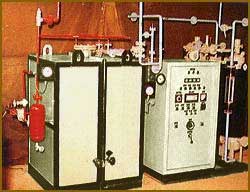 MGS Ammonia Cracking Units or Ammonia Cracker Gas Generator produces mixture of Hydrogen and Nitrogen by cracking Ammonia, which takes place in presence of Nickel catalyst at 850°C temperature.

Ammonia Cracking Units / Ammonia Crackers

MGS Ammonia Cracking Units or Ammonia Crackers are fully automatic, easily operational and are virtually maintenance free . In addition they have a compact body and can be installed very close to PSA Nitrogen generation equipment. The cost of Hydrogen generation by this method comes to around Rs.4.00 per Cubic Meter only.

Ammonia Crackers are very simple units. They are widely used in industries for small generation of Hydrogen gas. Ammonia Cracking Units are electrically heated units which consume around 1.4KW power per Cubic Meter of Hydrogen. Raw material for these units is Ammonia gas which is easily available in standard 60kgs capacity cylinders in open market. When Ammonia gas is passed over Nickel catalyst in these units, it cracks into N2 + H2 mixture containing 75% Hydrogen and 25% Nitrogen. This mixture is used as Deoxo Purification Unit for Oxygen removal.

FOR GETTING PURE HYDROGEN

If pure Hydrogen gas of 99.99% purity is required, a PSA Molecular sieves unit after these Ammonia crackers is provided ,which removes Nitrogen. This PSA unit operates at 7kg/cm²g pressure and produces pure Hydrogen gas at 5.5kg/cm² pressure. This type of ammonia based hydrogen generator is very economical up to 50 Nm³/hr Hydrogen capacity.

MOLECULAR SIEVES PURIFIER

A Molecular sieve purifier is provided after Ammonia cracking unit for reducing residual ammonia content and to get very dry gas. This reduces ammonia down to 1-ppm level and dries gas up to (-) 80°C dew point.

GAS COMPOSITION

Without Molecular Sieves Purifier
With Molecular Sieves Purifier
Hydrogen
75%
75%
Nitrogen
25%
25%
Oxygen
Nil
Nil
Residual ammonia
100-ppm(max)
1-ppm (max)
Dew Point
(-) 30°C
Up to (-)80°C

CAPACITIES

1 Nm³/hr to 600 Nm³/hr.

FEATURES
Fully automatic, skid mounted units.
Catalyst retort is made of heat resistant alloy which can withstand max. 1150°C operating temperature.
Furnace has efficient ceramic fiber insulation and a hinged door for easy maintenance and easy inspection.