CO2 Storage & Bottling
MAS Gas Air Systems Pvt Ltd (MGASPL) specializes in providing customized solution for CO2 gas storage and bottling plant. We design, manufacture, supply and install the systems according to individual customerís requirement. Our systems are very useful for many gases and are in use in various industries like Chemical, petrochemical, Pharmaceuticals, Cements, Steel, Food and Beverages, Refineries etc. Such type systems have also been installed in many institutions like, hotels, airports, R& D centres and many public places.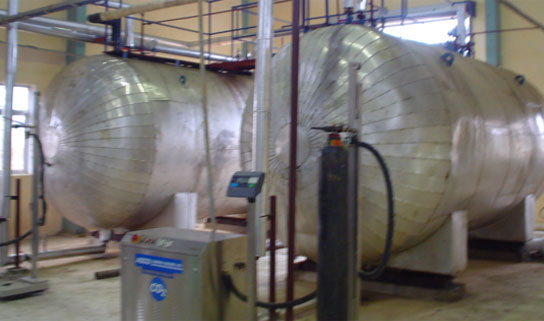 Salient Features
CO2 Storage & Bottling system consists of :-
Storage Tank ( Vertical or Horizontal)

Insulation of the tank

Tanker unloading system

Vapour condensing unit ( Chiller )

Co2 Filling pump

Gas filling manifold

weighing machine

Control Panel

Piping , valves and instruments.

Application Area

In the Food & Beverages Industry:
Carbonation of beer and soft drinks for freshness of taste. superior quality and tingling taste.

Grinding of spices to preserve the aroma and for increased production rates.

Packaging of foodstuffs in a controlled atmosphere for superior quality and fresh taste.

Quick-freezing in tunnels and cabinets for fresh taste; reduction in loss of weight; and increased production rate.

Preservation of meat - during the mincing process.

Transportation of chilled food at fairly low investment.

As dry-ice for pharmaceuticals and food industry.
In the Manufacturing Industry
CO2 welding (MIG/MAG) to provide an inert atmosphere.

Hardening of cores and moulds in foundries for reduced production time and better surface properties and accuracy.

Use in fire extinguishers - a critical safety feature in any manufacturing unit.
In the Horticulture and Agriculture Industry
Green houses for enhanced growth and yields.

Grain silos to prevent attacks from vermin and to improve storage life.