Compressed Air Systems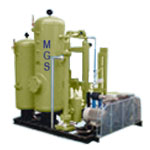 For industrial use or process air requirement , the air should be clean and free from moisture.

When air is compressed to 7Kg/cm²g, the temperature of discharged air increases to around 140°C. The after cooler and separator installed after the compressor are to the remove the moisture and oil. As an example, a 100Nm3/hr capacity compressor with suction conditions of 40°C & 50%RH when compressed to 7.0 kg/cm²g and subsequently cooled to 40°C will result in condensation of around 30lits of water. The air still will contain 8000ppm moisture. At 45°C, compressed air contains 10,500ppm, at 50°C, 13,500ppm moisture and at 60°C, 21,600ppm moisture which are to be removed by Air Dryer. Therefore, lower the temperature of air entering the dryer inlet, smaller would be the size of Air Drying unit and batter the performance.


Salient Features
The cooling water supply is not required.

Low temperature operation reduces corrosion of towers and desiccant lasts longer.

Automatic repressurizing equalizes desiccant chambers pressure before changeover, thus avoiding any bed movement at the time of changeover.

High performance, low initial installation and operating costs. Maintenance free and no heaters to burn out.

Soft seated pneumatic Control Valves are used for isolation of towers allowing no internal or external leakage as noticed in 2/3 ways Plug Valves.

Only single phase electric power is required for operating solenoid valves. Power consumption is negligible.