Heat of Compression type Air Dryers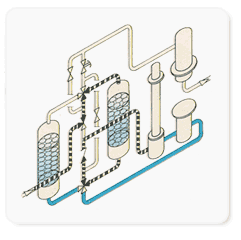 Directly from Air compressor the Compressed air, is taken to Air dryer inlet through insulated pipelines, at 120oC(minimum) temperature. This hot air is passed through one drying vessel where saturated desiccant is regenerated by this hot air. After picking up moisture from desiccant bed, the air is cooled in an intermediate cooler. Here moisture is condensed and removed by auto drain valve. Cooled to 40oC, this air passes through the second drying vessel where balance moisture gets adsorbed and Dry air comes out. Cycle time is of 4 hours regeneration & 4 hours drying. After 4 hours the changeover of vessels takes place automatically. In regeneration cycle heating of the bed is only for 2 hours and thereafter the bed is cooled by Dry air. After bed cooling, Dry air is again cooled to 40oC in another cooler, and delivered out of unit as Dry air at 40oC temp.



| | |
| --- | --- |
| Capacity: | 50CFM to 3000CFM |
| Pressure Kg/m2g: | 8-10 Kg/m2g |
| Moisture content (Dew-Point): | Minus (-)40 Deg. C Normal |
| Air/Gas Storage: | Offer as per customers requirement |
| Dimensions: | Tailor made designs as per customer's layout requirement |
The Dryer is fully automatic with pneumatically actuated Ball/ plug valves. A sequence timer controls operation of these valves. Desiccant used is Activated Alumina and it dries the air up to (-)40oC Dew point.
There is considerable power saving in these type of Compressed Air Dryers and the dew point is also better than the Refrigerated type of Compressed Air Dryers.
Main Advantage of Heat of Compression Type Compressed air dryer is the energy conservation and heat recovery achieved which is being wasted in After cooler in the conventional air dryer is now used to reactivate the desiccant.
Salient Features
No power is required for regeneration.
No loss of compressed air.
Maintenance is easy as there are no blower, no heaters, and no moving parts.
Maintains desiccant adsorption capacity to give (-)400C Dew point for almost 5 years.
Low-pressure drop across the Dryer- less than 0.3kg/cm2.
Skid mounted construction on channel base frame.
Fully Automatic, continuous operation.
Negligible operating cost. It neither requires Electric power for regeneration, nor there is any loss of compressed air

Note*:- Energy Saving Heat of Compression type air dryer can be used only with oil free air compressors.