Heatless type Compressed Air/Gas Dryers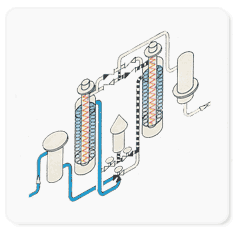 MGS manufactures complete range of Heatless Compressed Air Dryer Systems and Gas Dryer Systems. These compressed air and gas dryers find use in majority of industrial compressed air systems and applications.

Heatless Type Dryers do not require any heating of the desiccant for regeneration and therefore are very simple in design and smooth in operation. Heat Reactivated Dryers have become obsolete due to their high operating costs and high maintenance requirements.

In Heatless Dryers two vessels filled with desiccant are provided which cycle automatically, producing Dry Air continuously. In these units, wet air enters the bottom of one vessel and passes upward through the desiccant bed where the moisture is absorbed. The clean dry air comes out from the top.

A small portion of the dry air is passed downward through the desiccant bed in the second vessel which is under regeneration. This moisture laden purge air is then vented out to the atmosphere. The purge loss is around 5% of the total air flow rate. At preset interval, the vessels changeover automatically and the Dry Air is available continuously without any surges. The purge air loss is around 15% if dew point of (-) 800C is required.

| | |
| --- | --- |
| Capacity: | 10CFM to 4000CFM |
| Pressure Kg/m2g: | 8-10 Kg/m2g |
| Moisture content (Dew-Point): | Minus 40 Deg. C Normal |
| Air/Gas Storage: | Offer as per customers requirement |
| Dimensions: | Tailor made designs as per customer's layout requirement |

The Ideal Compressed Air System
In selecting the most efficient and economical compressed air dryer for any system, the major consideration is the lowest dew point, the dryer can maintain for the flow of compressed air you require. "Dew Point is the measure in air, and it is the temperature at which moisture starts condensing from the air into a liquid state. The lower the Dew Point, more dry is the Air."

For industrial applications dew point better than minus 17oC (moisture content around 0.1%) is generally considered quite satisfactory, but some of the applications require dew point of the order of minus 60oC (6.5 ppm moisture) also. It must be kept in mind that lower the dew point, higher is the cost of compressed air. Hence proper selection of the dew point gives the most economical operation.

Air from a compressor is loaded with moisture and damaging contaminants. The sketch on back side typifies a compressed air system designed to solve the contaminates problem and to provide clean, dry air.

A separator or pre-filter should be installed just before the dryer to remove moisture which carries over from the first after cooler/separator, or which becomes entrained between the separator and the dryer. Ideally, this pre-filter (or separator) should be installed close to the dryer so that moisture does not have an opportunity to condense and become entrained prior to entering the dryer.

The system dew point must be lower than the lowest temperature your lines pass through. If not, moisture will condense in the lines. Also, certain applications are subjected to tighter dew point restrictions for proper operation. For instance, precision instrumentation always requires a (--) 40oC dew point. Air operated mechanical equipment also require low dew points to ensure against failure and provide long life.

HIGH PRESSURE AIR / GAS DRYER
For various industrial applications where Air / Gas at high pressure in dry form is required, Mas Gasair Systems offers High Pressure Air / Gas Dryers. High Pressure Dryers are available in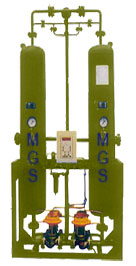 Heatless type. Some of the High Pressure Industrial Applications are:
Pet Blowing Machine
Air Circuit Breaker
High Pressure Gas Filling
High Pressure Testing
High Pressure H2 for Turbine Cooling
High Pressure Generator Starting
High Pressure Process Gas Applications.
Salient Features
Fully Automatic
Eliminates need of costly heaters for regeneration, and also no cooling water requirement
Low temperature operation reduces corrosion in towers and desiccant lasts longer
Automatic re-pressurizing equalizes desiccant vessels pressure before changeover. So Desiccant movement is avoided
Desiccant life is around 5- years.
Power requirement is Single-Phase, 60 watts only.