PSA Nitrogen Gas Generator
We do Design & Engineering, Manufacturing and Installation of Nitrogen generation systems for all applications, no matter how large or small.

Nitrogen generators allow the user to produce their own nitrogen using atmospheric air as raw material with well proven PSA technology.

PRINCIPLE OF NITROGEN GAS GENERATION

Nitrogen gas from atmospheric air is separated by using Carbon Molecular Sieves Technique . Carbon Molecular Sieves are used in these generators to preferentially remove oxygen and other minor gases from air .

The Nitrogen Gas Generators consist of a twin tower system filled with Carbon Molecular Sieves. The process of "PRESSURE SWING ADSORPTION" (PSA) is employed for smooth generation of nitrogen. The compressed air is passed through one adsorber, and Nitrogen comes out as product gas from it. The other adsorber is simultaneously regenerated by de-pressurization to atmospheric pressure.

MGS Nitrogen Pressure Swing Adsorption (NPSA) Systems offer low-cost & in house nitrogen generation facility.

MGS offers a wide range of nitrogen PSA Systems as per client's requirement. The process parameters can be optimized to meet specific flow, purity and pressure.

Capacity:
From 1 Nm3/hr to 1000 Nm3/hr
Pressure BAR:
0.1-150
Purity:
From 95% to 99.99%
Ultra pure Nitrogen with purification unit also offered
(Nitrogen purity up to 99.9999% can be achieved
Moisture content (Dew-Point):

Minus 50 Deg. C Normal

up to minus 70 Deg. C can be achieved

Gas analysis Systems:

| | | | |
| --- | --- | --- | --- |
| | A) | Oxygen Impurity | On-line / portable oxygen analyzer |
| | B) | Moisture Content | On-line / portable dew-point analyzer |
| | C) | Flow | Glass tube Rota meter / flow recorder |

Gas Storage:
Offered as per customer's requirement
Dimensions:
Tailor made designs as per customer's layout requirement
NITROGEN PURITY
Nitrogen purity in the range of 99% to 99.9999% can be produced through MGS Gas Generators. PSA ("MS" Model) Unit produces raw Nitrogen of 99% to 99.99% purity. By adding Purification Modules to this unit, Nitrogen of 99.9999% purity may be produced. The Generator Models to produce Nitrogen with higher levels of purity are as under:

TYPES OF NITROGEN GAS GENERATION SYSTEMS

| | | |
| --- | --- | --- |
| "MGS-MS" MODEL | "MGS-DX'' MODEL | "MGS-CU-DX" MODEL |
| This model is most common to produce Nitrogen of a purity in range from 95% to 99% purity. By increasing the quantity of Carbon Molecular Sieves, even 99.999% purity Nitrogen can be produced from this model. Higher the purity, higher would be the running cost. Considering operating cost factor, this model is recommended for purity upto 99.9% only. Plants with such purity specification are used for purging/inertizing applications. | Under this series of model of nitrogen gas generators produce Nitrogen with oxygen content of less that 1-ppm and variable percentage of hydrogen which varies from 0.5 to 30% This hydrogen content is desirable as reducing constituent in most of Heat Treatment applications. This model is recommended for use in Metallurgical industries to provide oxygen free Nitrogen gas for Heat Treatment Furnaces. MS models can be converted into this model by adding Halladium Deoxo reactor and Dehydroation unit. This model also finds applications in Chemical/Electronic Industries. | The model contains an extra Nitrogen Purification Module based on Copper Deoxo Catalyst. This model finds application in synthetic fiber, optical cables and electronic industries. Cost of production of Nitrogen from this model is highest. It produces very pure Nitrogen gas which is free from Oxygen as well as Hydrogen. and finds its suitability for applications where hydrogen contents are detrimental to the process. |
Standard Gas Composition
| | | | | |
| --- | --- | --- | --- | --- |
| GAS COMPOSITION | MGS-MS-L | MGS-MS-H | MGS-DX | MGS-CU-DX |
| Oxygen | 0.5 to 4% | 10-ppm to 0.5% | 1 to 3ppm (max) | 1-ppm (max) |
| Hydrogen | Nil | Nil | 0.5% or more | Nil |
| Nitrogen | 96-99.5% | 99.5 to 99.999% | Balance | 99.9999% |
| Dew Point | (-)40°C to (-) 80°C | (-)60°C to (-) 80°C | (-)40°C to (-)80°C | (-)40°C to (-)80°C |
| Applications | As Inert Gas in Chemical Industries, Food & Pharmaceutical Industries, for fire control in Coal Mines etc. | As Inert Gas in Chemical Food, Pharmaceutical Industries, Heat Treatment Furnaces, Electronic, Synthetic, Fibre, Industries | As Inert Gas in Chemical & Pharmaceutical Industries In applications where oxygen impurity is not tolerable. | As Inert Gas in Electronic, Synthetic Fiber, Hitech Industries where one needs Ultra High Purity gases. |
Note:- However a system can be designed to suit individual's specific requirements.
Salient Features
Automatic Start and stop. Start-up time is only 5-Minutes.

Nitrogen gas supply is always under control.

Self-contained Skid mounted units for easy installation.

Very low maintenance costs.

Very simple to operate.

Carbon Molecular Sieves life is minimum 8-10 Years.

Very low cost of production.

Compact in size and design.

Pay back periods are very short in the range of 1-2 years depending upon applications.

NITROGEN PRESSURE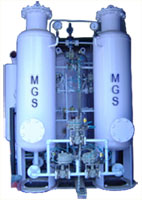 Standard PSA Nitrogen Gas Generators produce Nitrogen at a pressure of 5.5 to 6.0Kg/cm²g. This pressure comes automatically as feed air compressor supply feeds the compressed air at 7Kg/cm²g pressure to the PSA Unit. By increasing feed air pressure to 10Kg/cm²g, Nitrogen can be produced at 8.5Kg/cm²g. pressure also. It is, however most economical to run Air Compressor at around 7Kg/cm²g pressure and produce Nitrogen at 5.5Kg/cm²g. pressure. If Nitrogen is needed at high pressure, Nitrogen booster compressor is provided after the gas generator. By this addition, it is possible to compress Nitrogen gas to obtain desirable pressure to suit individual's requirements.
NITROGEN STORAGE TANK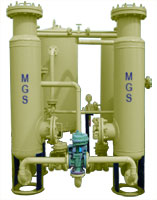 At the outlet of PSA Nitrogen Generator, Nitrogen gas is available at a pressure of around 5.5kg/cm2g. Storage Tank receives Nitrogen from the Gas Generator and supplies it to your process as per demand. Normally Nitrogen Storage System of 1-hour capacity is considered to be adequate. For high storage requirements, a Nitrogen Booster Compressor is provided to store the gas at high pressures to keep storage Tank size smaller. Nitrogen Storage Tanks are fabricated from Boiler Quality Steel under 3rd party inspection. The Gas Generator automatically trips when pressure reaches the set value. When pressure in the tank falls, Gas Generator re-starts.

HYDROGEN REQUIREMENT

For high purity Nitrogen Gas Generators, a Deoxo Unit is provided where oxygen in nitrogen gas is removed by reacting it with Hydrogen. This Hydrogen can be supplied either from Hydrogen Cylinders or captive Hydrogen Generator based on Ammonia Cracking Process. In smaller capacity Nitrogen Gas Generators, Hydrogen requirement is very little, therefore Hydrogen Cylinders are most economical. But, in bigger capacity Nitrogen Gas Generators Ammonia Cracking unit works out to be more economical.

NITROGEN CYLINDERS V/S NITROGEN GAS GENERATORS

NITROGEN CYLINDERS
Nitrogen Cylinder costs Rs.10/- to Rs.15/-per Cubic Meter. which is very high in campier to cost of Nitrogen produced from PSA based Nitrogen gas generators.

Transfer and handling of Gas Cylinders is very cumbersome due to high pressure risks.

Dependency on availability of Nitrogen Cylinders all the time.

Nitrogen purity in Cylinders is never reliable and changes from cylinder to cylinder.

There are many factors like location, market demands transportation mishandling, left over gas in the cylinders etc. which affect the availability & economy of the main process.
NITROGEN GAS GENERATORS
Nitrogen Gas Generator gas costs Rs.2/- per NM³ only.

In-house Nitrogen generation as and when needed.

Continuous and reliable Nitrogen supply round the clock. Production never suffers due to shortage of Nitrogen Gas.

Nitrogen Purity is very steady and reliable.

Plant handling is very easy.